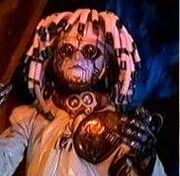 Noxic is an android with coils for hair who wears a white labcoat-like jacket. Can control machinery and other objects by removing his head and attaching it to them.
Character History
Edit
Prefers to eat donuts all day long instead of doing Vexor's bidding. He has an older brother named Super Noxic, though technically Noxic was created first.
One time in a dream of his, he took control of a bulldozer with his head and tried to destroy the Beetleborgs. He later used this same technique to take control of Ghoulum, went he went bad from the comic book's formula. He has an unseen wicked friend, from the comic books as well, named Dr. Cackle, who created the evil formula.
In battle, he sometimes wields an umbrella-like weapon.